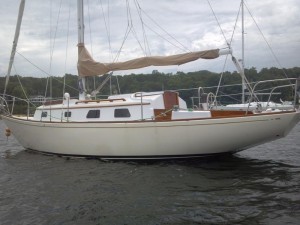 I moved to Maine in the summer of 2010 from Gardnerville Nevada. My family spent some time in southern Maine before settling in Camden. Camden was chosen for one reason, the ocean. Camden is in the middle of the Penobscot Bay renowned as some of the best sailing on the planet.
The summer we moved to Maine we also bought a sailboat, a 32 foot Bristol Marconi rigged sloop. A boat that need some work but would be ready in a season or two. My dad and I work through the cold that winter to get the boat ready for the next year. Come late May of 2011 it was time to launch the boat, and although she wasn't perfect she was sea worthy.
I spent that summer seeing the world in a way I had never seem. Being on the ocean is like looking from the outside in, you get a whole new perspective on things. Sailing really grew into a passion of mine over the summer, whether I was going out for a few days or sitting on the hook in the harbor watch the sun set, I loved being on the boat. It also helped turn Maine into a home for me. I went from being a resentful little shit torn from his childhood town, to someone who appreciates the world where you are and the experiences you have.